WordpressSSHBackup erlaubt ein einfaches lokales Backup von einer Wordpress-Installation per SSH-Verbindung zu erstellen. Voraussetzung ist natürlich ein SSH-Zugang zum Server/Host.
Das Tool sichert dabei das konfigurierbare Root-Verzeichnis der Script und Dateien (Bilder etc.) sowie die angegebene MySQL-Datenbank.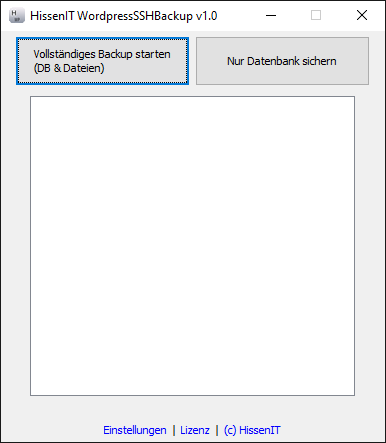 Die Backup-Software kann natürlich auch auf andere gehostete Systeme angewendet werden, wie z.B. CMS-Systeme, Shopsysteme usw. auf MySQL-Basis. Natürlich können auch nur Dateien oder nur die Datenbank gesichert werden.
Zum Backup werden einfach die Systemkommandos tar und mysqldump gescriptet. Daraus entstehen ein ZIP-Archiv der Dateien & Scripte sowie ein SQL-Dump der Datenbank.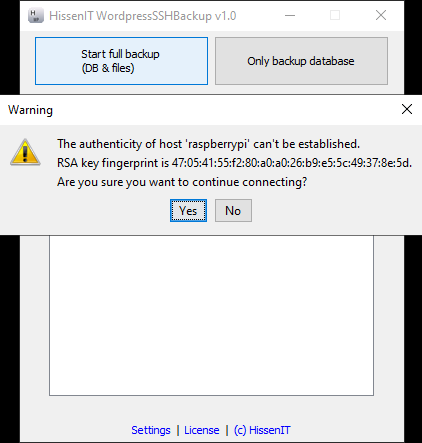 Das Tool richtet sich vor allem an kleinere Unternehmen, die sich bisher nicht um ein automatisiertes Backup kümmern (können). Zumindest vor Updates, aber am besten regelmäßig sollte man sein gehostet System lokal sichern. HissenIT WordpressSSHBackup stellt eine einfache, schnelle Möglichkeit dazu dar, als simples Windows-Programm.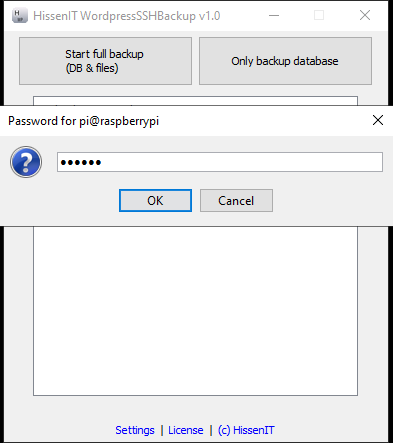 Auch in der Cloud ist ein Totalverlust der eigenen Daten nicht vollends ausgeschlossen. Ein lokales Backup, dass auch für eine Neuinstallation oder Provider-Wechsel genutzt werden kann, gibt auf jeden Fall ein Stück größere Sicherheit.
WordpressSSHBackup
1.0 (EXE Unzipper)
v1.0, 07.06.2021
License (c) 2021 HissenIT

This software is provided 'as-is', without any express or implied warranties or conditions of any kind. In no event will the author be held liable for any damages arising from the use of this software. This software is an individual / custom-made solution and requires proper usage of the licensee.
You may not distribute or redistribute this software! Violation of this license may leed to legal steps and compensation claims.

**** Third-Party Software Components ****
JSch 0.0.* was released under the GNU LGPL license. Later, we have switched over to a BSD-style license.
------------------------------------------------------------------------------
Copyright (c) 2002-2015 Atsuhiko Yamanaka, JCraft,Inc.
All rights reserved.
Redistribution and use in source and binary forms, with or without modification, are permitted provided that the following conditions are met:
1. Redistributions of source code must retain the above copyright notice, this list of conditions and the following disclaimer.
2. Redistributions in binary form must reproduce the above copyright notice, this list of conditions and the following disclaimer in the documentation and/or other materials provided with the distribution.
3. The names of the authors may not be used to endorse or promote products derived from this software without specific prior written permission.
THIS SOFTWARE IS PROVIDED ``AS IS'' AND ANY EXPRESSED OR IMPLIED WARRANTIES, INCLUDING, BUT NOT LIMITED TO, THE IMPLIED WARRANTIES OF MERCHANTABILITY AND FITNESS FOR A PARTICULAR PURPOSE ARE DISCLAIMED. IN NO EVENT SHALL JCRAFT, INC. OR ANY CONTRIBUTORS TO THIS SOFTWARE BE LIABLE FOR ANY DIRECT, INDIRECT, INCIDENTAL, SPECIAL, EXEMPLARY, OR CONSEQUENTIAL DAMAGES (INCLUDING, BUT NOT LIMITED TO, PROCUREMENT OF SUBSTITUTE GOODS OR SERVICES; LOSS OF USE, DATA, OR PROFITS; OR BUSINESS INTERRUPTION) HOWEVER CAUSED AND ON ANY THEORY OF LIABILITY, WHETHER IN CONTRACT, STRICT LIABILITY, OR TORT (INCLUDING NEGLIGENCE OR OTHERWISE) ARISING IN ANY WAY OUT OF THE USE OF THIS SOFTWARE, EVEN IF ADVISED OF THE POSSIBILITY OF SUCH DAMAGE.

Wordpress, PHP, MySQL, Shop System, Shop Software, Linux, Datenbank, Backup, Hosting, LAMP, Management, Updates, Crash, Hilfe